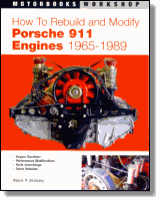 Introduction:
There are few machines in this world that have garnered as much respect and admiration as the 911 engine. For more than 25 years, the basic design of the engine remained unchanged from its original 1963 incarnation. In a testament to the ingenuity of this unique design, subsequent upgrades and tweaks were all that was needed to turn the original 130 horsepower six-cylinder engine into the 800+ horsepower variant used in the legendary Porsche 935.
Unique in so many aspects, the 911 engine has garnered a hint of mystique that surrounds the mechanics trained to work on them. In a role commensurate with automotive royalty, the Porsche engine mechanic has enjoyed great respect and has been revered for the intimate knowledge that can only be learned at the Porsche factory in Stuttgart. To have your engine treated by one of the great factory-trained mechanics required a lengthy wait, or even worse, rejection because the good doctor was too busy restoring that original Carrera RS.
Well, to heck with all that! By buying this book, you have taken your first steps towards breaking the myths associated with the 911 engine. For many years, useful information on the 911 engine has existed only in the heads of those trained at the Porsche factory. The tips, tricks, and the 'secrets of the inner circle' have remained a closely guarded treasure trove that only a chosen few have had access to. Well, that has all come to an end now. Like the popular television series, "Magician's Secrets Revealed" this book exposes all of the undocumented laws and formulas for rebuilding, restoring, and modifying your Porsche 911 engine.
So who should be reading this book? This book exists for anyone who owns a Porsche 911, and has an interest in learning about what goes on within the engine compartment. This book is designed to be the definitive resource and guide to rebuilding your engine - regardless of whether you do it yourself, or have a mechanic perform the rebuild. All of the notes, information, and technical specifications that are contained in the depths of the factory workshop manuals are included in this book. As principle technical writer for Pelican Parts, I have had the opportunity to collaborate with some of the finest Porsche engine rebuilders in the world. All the knowledge and lessons learned over the years from their collective experience are compiled here.
Do you need a PhD from MIT to rebuild your engine? Certainly not! If you can read, follow directions carefully, and turn a wrench, then there is no reason why you can't rebuild your own engine. This book is written in the same easy-to-understand style that I wrote with in my first book, "101 Projects for Your Porsche 911." If you can perform even the most basic projects in '101 Projects' then you can certainly tackle the job of rebuilding your 911 engine. The key is to have patience, work carefully and cleanly, and don't rush or cut corners. Follow my advice in this book, and you will have a strong-running, leak-free engine that will run well and last a very long time.
Are you planning on taking your 911 in to have the engine rebuilt? Great - then this book will help you to ask the right questions of your mechanic, and will help assure that your 'baby' will get all the proper care and upgrades that she needs. If your mechanic doesn't know what an oil by-pass modification is, then he certainly shouldn't be rebuilding your engine. I will arm you with all the questions that you need to ask your mechanic to decide if he is worthy enough to work on your car. Too many of my Pelican Parts customers have been suckered by mechanics claiming to be experts, when in reality they have never rebuilt a Porsche engine before. It doesn't matter if they've rebuilt thousands of American big block engines or even Volkswagen motors - the Porsche 911 engine is completely different. It's like a Swiss watch that must be assembled with complete precision, attention to detail, and the knowledge of years of experience – which I provide here in this book.
This book is not necessarily about rebuilding your 911 engine, but more about restoring it. Very often, these engines have become very old and have not been treated with the best of care. Restoring the engine compensates for years of heat cycles, previous incorrect rebuilds, the effects of dirty oil, high mileage, racing and just plain abuse. This restoration is performed by the use of careful machine work, parts replacement, improved assembly procedures, and extreme attention to detail while utilizing all of the factory recommended updates and upgrades.
So why is the Porsche 911 engine so special? The difference lies in the engineering and precision. The 911 contains many race-designed components that are taken for granted: a dry-sump system, the natural balance of six horizontally opposed cylinders, a single rod per throw, single-overhead chain-driven camshafts, and air cooled cylinders to name a few. It's an honor and a challenge to rebuild one of these engines – elements of their race heritage can be seen in just about all aspects of their design.
With that in mind, let me take a moment to walk through each chapter of the book. The first chapter addresses the issues surrounding the question of 'When to Rebuild?" It's a simple question that's often asked, yet the answer can be complex and confusing. I've had customers who think that they needed a rebuild, only to find out that a tiny piece of carbon stuck against a valve was causing all of their problems. In this chapter, I detail the tests, evaluations, and items to look for to determine if your engine actually needs to be rebuilt. No use tearing down your engine if it can be easily repaired in some other way.
I detail the engine teardown process in chapter two. Detailed photos document each step of the teardown and cataloging process. It's important to stay organized during this step, as you don't want to misplace or lose any of your important engine pieces. I show you what to look for, where to find it, and most importantly how to take things apart without damaging them. Disassembly is a fun process where you can tear down the engine and actually learn about how it works from the outside in.
In the next chapter, I discuss the 'mysterious processes' that are performed on your parts when you send them off to the machine shop for refurbishment. Can you reuse this part? How much wear is acceptable? Which parts should be scrapped? It's all detailed in this chapter, along with which machining processes you should have performed on your parts. Not sure if you should hone your cylinders or not? Which head studs should you use? It's all in chapter three.
Chapter four is an immense collection of never-before published information. I've separated this one into three distinct sections. The first section describes in detail what parts you should definitely replace on your engine. These are the parts that wear out in your engine, and their replacement is the main reason why you are tearing the engine down to begin with. In section two, I detail my recommendations for reliability upgrades. These additions won't give you any more horsepower, but they will increase the longevity of your engine, and help ensure many miles of problem-free driving. Section three exists in the land of unlimited budgets. Everything from twin-plugging to engine management systems are detailed and explained. This is where you ask yourself, "what if…" and then go check the balance in your checking account!
Chapter five can be called the fruit filling of this book. Step-by-step, this chapter guides you through the assembly process, avoiding the snake-pits and sand traps that can lead to costly mistakes later on. Follow the instructions, and you will end up with a leak-free, superbly running engine when you're finished. Two hundred photos document the assembly process, clearly pointing out every single detail of the process so you won't make any mistakes.
In the final chapter, I detail the break-in process, and include a bonus section on dyno testing. In appendix A, I've compiled a lengthy list of tolerances and specifications that you need to rebuild your engine. Appendix B is a comprehensive parts diagram listing complete with all the part numbers for all parts used on the 1965-89 engines.
In a detailed how-to book like this one, it's important to distinguish literally which way is up. The 911 engine can be confusing because it's located in the rear of the car, and oriented backwards from most other engines. When I refer to the front of the engine, I will be talking about the area towards the front of the car, where the flywheel is located. Conversely, the back of the engine refers to where the fan and pulley are mounted. Left and right refer to the left and right side of the engine as it is installed in the engine compartment of the 911. I also refer to locations by cylinder numbers. The diagram off to the side displays the cylinder numbers for the 911 engine. Cylinder numbers one through three are located on the left, cylinder numbers four through six are located on the right. Refer back to this diagram if you have any question as to where a particular cylinder is located.
As with any big how-to project, information is key to success. Although I have tried to include every single scrap of information you may need to rebuild your engine in this book, there are some elements of the process that I just did not have enough space to include. A lot of this material is already published in my first book, "101 Projects for Your Porsche 911." I recommend picking up a copy of that book to use in conjunction with this one if you don't already have it.
In addition, I have some recommendations for supplemental material that may help on topics like each particular engine's fuel injection system, or exhaust system. I recommend picking up some of these sources of information in addition to this book as I have learned that multiple viewpoints on the same topic can be invaluable if you are having trouble understanding something. See Figure A for some of my personal recommendations.
I hope that you enjoy this book, as I have spent a lot of hours documenting each element of the rebuild process. If you have any questions or comments, feel free to contact me at this book's official website, http://www.101projects.com, which is also shared with the 101 Projects book. Enjoy!
---


Last updated 01/03/11. This site was designed and produced solely by Pelican Parts. Pelican Parts is not associated with Porsche Cars North America in any manner, except for a mutual appreciation and love of the cars. All pictures and references to the Porsche name, and the car names and shapes are for restoration reference only, and do not imply any association with PCNA.